2023 Burning Man Packing List: Don't Forget These Items
Reading Time: 13 minutes

Burning Man can be one of the most fun and transformative events in the world. But packing for Burning Man is overwhelming, especially if it's your first time.
From securing tickets, to getting to Black Rock City, to choosing a camp, to bringing the right tent, gear, and clothing you need to survive an entire week in the middle of the desert, it's hard to know where to start.
The truth is that there is no "perfect" Burning Man packing list or checklist. That said, there are some essential items that everyone should bring to Burning Man. Below you will find 50+ items that will help you prepare for and enjoy the experience.
While you can add or subtract a few things based on your preferences and personal situation, this list should give you a good starting point for having a great time.
Before we dive in, one thing to note is that everything you bring to Burning Man will likely get very dusty. So it's best to bring things that you would be comfortable throwing away, donating, or seeing ruined by the end of the event. Even if you're really careful, the dust will find a way in!
Ultimate Burning Man Packing List
I. "Do Not Forget" Essential Items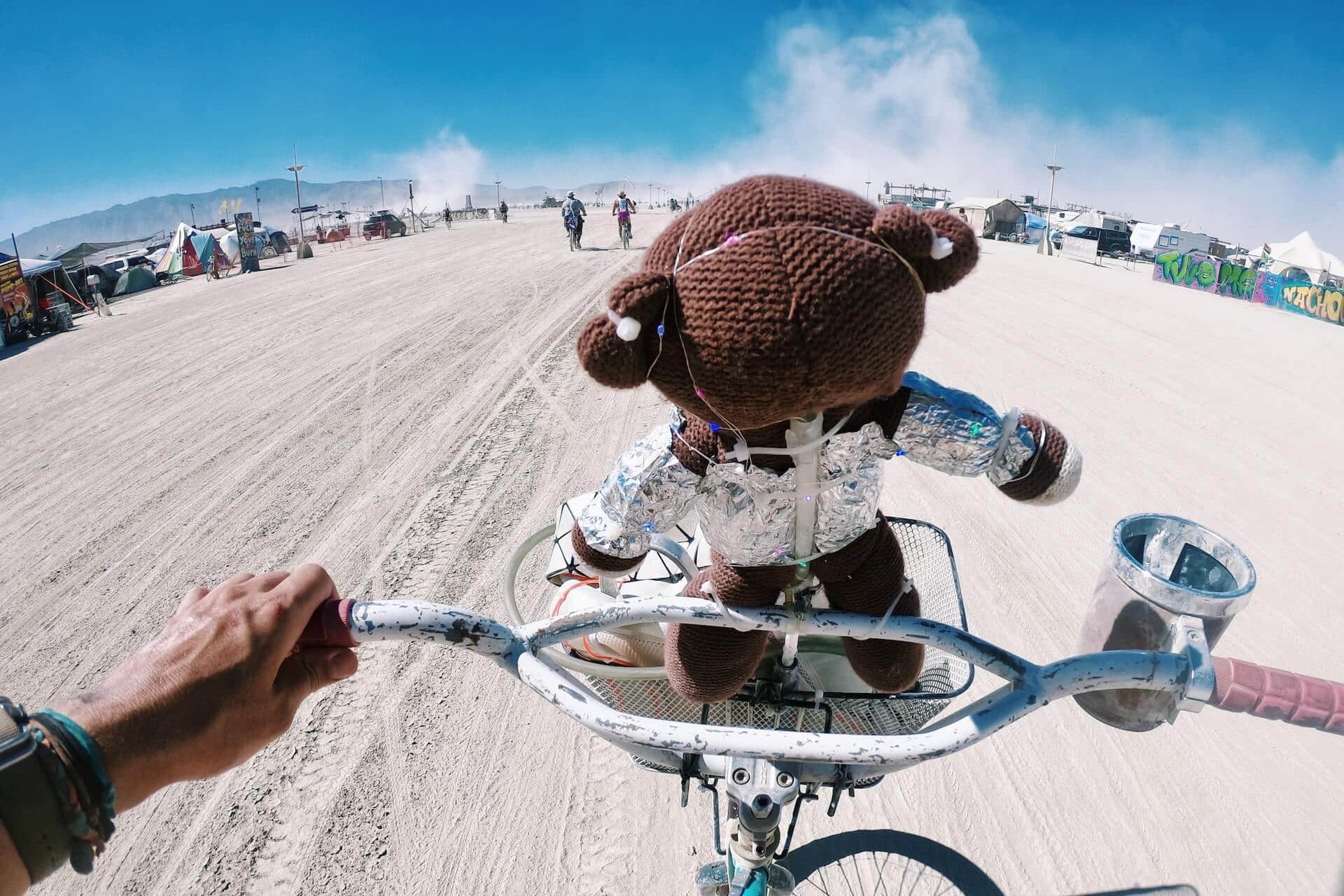 Just like you don't want to forget your passport or credit cards when you leave the country, there are a few items that you should absolutely have to go to Burning Man. Those include:
Your ticket. There are many ways to get tickets. Look on the Burning Man website for different options. While it's not always easy to get a ticket, you will get one if you're patient and make the effort. Once you have it, don't forget to bring it to Black Rock City!
A photo ID. Many camps won't allow you to get drinks unless you show your ID. A pro tip is to get your ID laminated and attached to the cup that you bring around the event.
Bus ticket/parking pass. You can drive to Burning Man or take the Burner Express Bus from San Francisco or Reno. The Burner Express simplifies the trip, and if you go this route, make sure you have printed copies of your ticket there and back. If you're driving, make sure to have a parking permit, spare car key, lock box, and extra gas.
Transportation: You need a bicycle to get around at Burning Man. You can buy or rent a bike before arriving at Black Rock City at these places. Make sure to bring a bike lock (and use it!) and a bike basket.
II. Tents, Sleeping Gear, and Shelter
Your sleeping situation is one of the most important factors in determining your experience at the Burn. While staying in an RV is "optimal" for getting good sleep and being comfortable, that's not always viable. I opt to stay in a tent and enjoy the experience.
What is the best tent for Burning Man?
Your tent is the most important item you will bring to Burning Man. The best Burning Man tent for two people is the Coleman Cabin tent. I stayed in this tent during my first Burn, and it's sturdy, spacious, and well-priced. Make sure to buy the tent kit and rainfly as well.
If you are going to Burning Man solo, the best tent is the Coleman Skydome Camping Tent with Dark Room Technology. It's affordable, and the dark room feature keeps the light out while you sleep. The tent also has nice mesh pockets that make it easier to organize your stuff.
Regardless of the tent you bring, there are a few accessories that will make your experience better. These hanging tent lanterns are wonderful for when you need to find things in your tent at night. I hang two in my tent. The other ESSENTIAL item is lag screws and an impact driver to put them in the ground to secure your tent.
Normal tent stakes won't work on the playa unless you want your tent to blow over in the wind. Lag screws work really well, and many camps will have extras if you forget them. Bring some duct tape as well for good measure.
Essential Shade and Sleeping Gear
Shade structure: If your tent sits directly under the sun, it will be too hot to sleep in it anytime after the early morning. The best solution is to join a camp that has a shared shade structure that covers your sleeping area.
Tent accessories:
Pillow: Getting enough rest will make or break your Burn. I really enjoyed this travel and camping pillow, and I also bring this Wise Owl pillow as well. Both provide enough neck support and compress into a small sack so it's easy to carry. If you need more support, you can also bunch your warm jackets up and use them as makeshift pillows.
Sleeping bag: You want a sleeping bag that has enough support, room, and warmth. This sleeping bag worked really well for me
Earplugs: There is always bass at Burning Man, so you absolutely need earplugs to sleep. These foam earplugs worked well for me in 2018, but I have since fallen in love with Mack's silicone earplugs and would bring them instead.
Eye mask: The sun rises early at the Playa. Having an eye mask can help you sleep a little later and take a daytime snooze if you need it (you will). I use the Alaska Bear eye mask, which is the best one I've found.
III. Hydration and Energy
Every Burning Man packing list should tell you that staying well-hydrated and energized is essential to enjoying your Burning Man experience. It's also one of the most difficult things to do. You have to navigate wild temperature swings, irregular schedules, a high dose of exercise, and being up at weird hours.
If it's your first Burn, it will be a tough balance to strike. At a minimum, stay hydrated. It gets unbelievably hot during the day, so make sure you have access to water at all times of the day. I drink 5L+ of water every day at the Burn. And on the energy front, do your best to get enough sleep for what you need, even if that means missing out on some fun events. Here are some of my essentials for staying hydrated and alert.
IV. Eating and Drinking Supplies
Many Burning Man camps will provide you with food, drinks, and water. The most important of those is water, so make sure that you'll have access to water during the event. But even if you have the basics covered, you'll need to bring your own cups and utensils for when you're chilling at camp or exploring the event.
Eating utensils: This Snow Peak Trek Titanium Bowl is great to have for getting food from around the playa. Get a few sporks for eating food. They will come in handy when your hands get dusty and dirty.
Drinking: You need a cup or mug to get drinks while you're out and about. This GSI Outdoors Infinity Backpacker Mug should be your go-to for drinks. You can attach it directly to your CamelBak, and having a lid for your cup is super helpful. I would bring at least two of these cups, one you can bring out with you and another one that you can keep at camp. I was also happy to have these stainless steel cups as backup drinking vessels.
Sanitation: Small packets of hand sanitizer are useful to have in the small bag you carry. Also make sure you have some wipes to help keep your bowls and utensils clean.
Food: While the camp you're in or the ones you visit are likely to provide at least some of your meals, it's helpful to have readily available, calorie-packed food. I typically bring mixed nuts, protein bars, and some crunchy snacks. Something to keep in mind is that unless you're sure you can keep your food refrigerated, it's best not to bring snacks with chocolate in them. They will melt within the first hour (trust me, I've made this mistake!).
Gum: It's really nice to have gum for yourself and as a gift to give to others. My favorite is old school Trident Bubblegum that I carry around at all times.
V. Boots, Clothing, Costumes
Burning Man is the time to break out your wildest clothing to express who you want to be. People dress in all kinds of different ways, but regardless of your style, it's helpful to have a few core things to make sure you're prepared to deal with the weather and conditions on the playa.
What are the best boots for Burning Man?
With the exception of your tent, the boots you bring to Burning Man are the most important item for making sure you have a good experience. With the right boots, you can stay comfortable, protect your feet from the elements, and dance in style. The best boots I've found are these Japanese Tabi Boots. Not only are they comfortable and sturdy, but they are incredibly lightweight so you can still be nimble as you dance around the desert.
Outside of boots, you will want to bring flip-flops or other open-toed shoes for when you want to relax and hang out around camp. I also enjoy having a pair of lightweight hiking shoes for when I don't want to wear boots.
Other Essential Burning Man Clothing and Costumes
Jackets: The desert can get very cold. Bring at least one warm jacket and many layers. It can also rain, so be prepared with some rain gear.
Pants: You need pants for when it gets cold at night. I enjoyed having a lightweight pair of hiking pants and putting these sports tights under them to keep warm at night. I also have these tights, which are more stylish and very comfortable.
Shorts. During the day, you want breathable shorts to take on the heat. I got a few of these running shorts, and they're the perfect length and comfort.
Shirts: These are fun shirts for the Burn, and so are these disco shirts. The gold disco shirts are a big hit and really come to life at night.
Socks/underwear: Having merino wool socks is great for when you're going to bed. You can wipe the dust off of your feet with baby wipes, put a little coconut oil on them, and then put on your clean socks. Otherwise, I would bring a bunch of cheap socks that you'd be comfortable ditching after the event. Same advice for underwear.
Beanie: It can get really cold at night, so bring a beanie just in case. I have a bright-colored beanie to increase visibility at night.
Sunglasses. It's very bright at the Burn, and having sunglasses for both day and night is very helpful. I lost a bunch of glasses my first year, so now I just bring cheaper sunglasses that I would not mind losing.
VI. Staying Clean and Organized
It's impossible to stay clean at Burning Man, but there are a few things to include in your Burning Man packing list that will help you have a better experience. These are some of the core things that I bring and do at the event.
VII. Protecting and Hydrating Your Skin
The last thing you want at Burning Man is to get a gnarly sunburn, rash, or dry skin. It's not always easy to keep your body in great condition after a week in the desert, but there are a few must-have items to pack for Burning Man that will help keep your body protected.
VIII. Fun Toys and Other Accessories for the Playa
Every Burning Man packing list should include room for items that allow you to express yourself, stay healthy, and enjoy your experience in the Black Rock Desert.
What are the best Burning Man goggles?
You need goggles to protect your eyes from dust, especially when heavy dust storms pop up out of nowhere. I like these retro goggles, which protect your eyes during dust storms and are fun to wear at night. I also bring a cheap pair of ski goggles for the daytime.
Other Burning Man Accessories
Singing bowl: I loved having the Silent Mind Tibetan singing bowl at the Burn. I carried it in my backpack for quick meditation and intention-setting sessions.
Headbands: These GOT headbands are amazing. They have fun patterns, and they can be used as accessories, for sun protection, and as a makeshift face mask during dust storms. These floral headbands are cheap and easy ways to add some flavor to your wardrobe.
Health gear: I bring tennis balls, a foam roller, and a massage bar to decompress my back and roll out sore parts of my body.
IX. Lights to Stay Safe
Making sure that you're well-lit is absolutely critical. Even with all of the activities at the Burn, it gets very dark at night, and as you're walking or biking around, you need to make sure that you have enough lights on your body and transportation options so that other people can see you. Otherwise, you end up putting yourself and others in real and unnecessary danger.
Bike lights: You need to keep your bike lit up at night so that other bikers don't mow you down. For bikes, I've found that the following lights work best and will make sure you're visible and looking cool: the Brightz light for your frame, these multicolored lights for your wheels (bring 3), and this disco party blinking light for the front of your bike. You will also need a basic front light for your bike and a blinking one on the back of your bike. Bike lights often don't last for the entire event, so having a few extras is helpful.
Extra batteries: Bring extra AA and AAA batteries. You will need them for something!
El Wire and other lights: At night, you need to wear lights on the Playa, so that people don't mow you down on their bikes. Most people bring that you bring El Wire to the Burn. I did that for the first two years, but honestly, it breaks pretty easily and is kind of annoying to use. If you do use it, you can string it along your body, your bag, and your bike. People also bring glow sticks and Christmas lights. Get creative!
Flashlights and headlamps: It gets very dark at night, so it's helpful to have a headlamp and flashlight to navigate, especially when you're in a tent. This headlamp and these flashlights.
X. Playa Gifts
Burning Man operates on a gifting economy, which means that instead of exchanging money, people share their foods, drinks, talents, and many other things. Contributing to the event in some way is a big part of really integrating into the experience and making burner friends.
The first year I brought a bunch of classic candy to the burn and gave it out.
Another year I brought a Polaroid camera with a lot of extra film, and anytime someone was taking a photo, I gifted them a polaroid version of it. Someone did that for my first Burn, and it was one of those tokens from the event that I still cherish. If you bring a camera, just note that it's likely to stop working by the end of the event because of the dust.
What you give back to the community is up to you, but make sure you don't just take from others. Giving your unique gifts to other people is a really fun and rewarding experience.
XI. Final Burning Man Packing List Thoughts
Before you go to the event, make sure to spend time learning about Burning Man and the core principles that drive the event. A good starting place is the 10 Principles, which will teach you more about how to be a good Burner citizen in your time at Black Rock City.
You should also get familiar with the Burning Man website. It's full of wonderful material about the event and will answer almost every question you have. You can also consult Reddit and the other burners you meet in daily life to help answer the many questions you'll have.
Also, know that no matter how much you prepare, you will likely find yourself in a situation where you don't have something that you need or in a situation that is mentally taxing in some way. That's all a part of the experience, so try to lean into it and ask new Burner friends for help if you're having a tough time. It's an extremely friendly and supportive environment.
And above all else, don't forget to have fun! Ride on an art car, do an exploratory workshop, join the festivities at center camp, be awed by the art exhibits, spend time in the temple, and engage with your fellow Burners to get the most out of the experience.
---
For transparency, some of the links above are affiliate links, which means that if you decide to make a purchase, I will earn a commission at no additional cost to you. I have personally used all of these products and found them incredibly valuable at Burning Man. I'm recommending them to you with the hope that they will help you have a better experience at Burning Man, not because of the small commissions I will make.
If you enjoyed this article…
You might also enjoy these articles…
No Recent Articles Found.